Welcome to Affiliate Track!
Affiliate Track is a tool to help you find affiliates in the iGaming industry.
The tool is currently in beta and currently identifies new affiliates that are linking to your competitors but not you!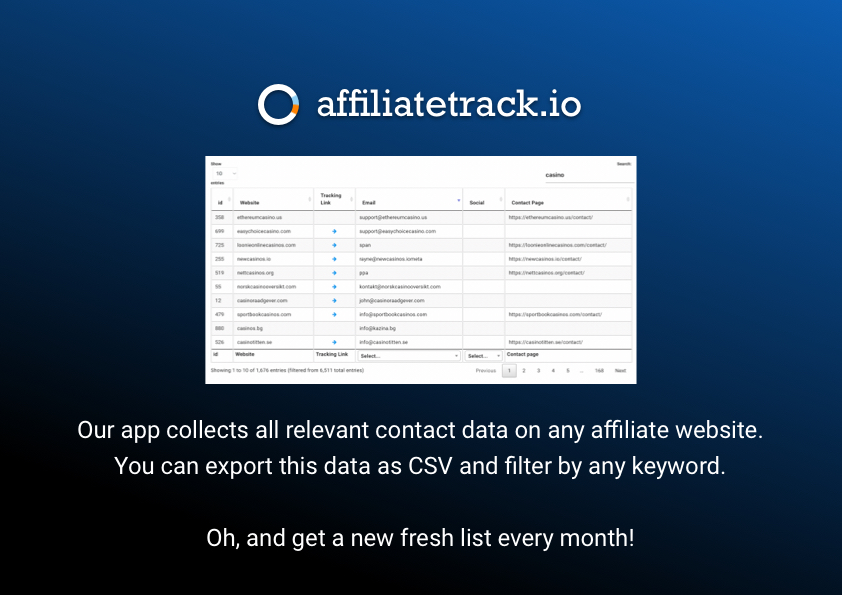 Frequently Asked Questions
How much is the tool?
The tool is $475 USD / month to monitor 1 brand. It is an additional $50 / brand after. Other tools on the market can be $1000 and up.
How can I get the tool?
We will only be giving out 20 licenses of the tool and is by invite only. If you wish to be put on the mailing list, join this newsletter for future updates. If you heard about this tool, good chance is because we are looking for smart affiliate managers and operators of affiliate programs to work with and build out the tool for your needs.
What are some of the planned features of the tool?
The tool will have some of the following features:
Target affiliates that have stopped promoting you or removed you on specific pages [Aug]
Track your average rating across multiple affiliate sites [Oct]
Identify more pages on affiliate sites where you could get more traffic from [Aug]
Compare your brand vs others to see where you can improve [Aug]
Detailed reporting on affiliate sites to track # of links they are building and # of pages they are creating per month [Aug]
Find new affiliate sites that are promoting your competitors but not you [July]
Produce full lists of contact info scraped from the affiliate sites including email, social media profiles and contact pages [live]
Can you help us with email deliverability?
Yes and before we give you access to the tool, we run some tests to check for your email deliverability. If you want us to run and automate your affiliate acquisition campaigns, we can do this at an additional cost.
Download the media kit for rates and availability